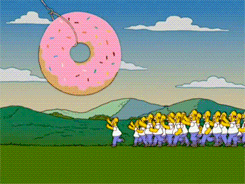 June the 7th is National Donut Day. This means the most glorious dough-y confections are being given away for free. Praise be!
• Hit up Stan's Donuts for a Free Donut with any purchase (limit one per customer).
• The first 1000 Firecakes customers on National Donut Day will get a voucher (for their next visit) that's good for either a free Buttermilk Old Fashioned or 12 oz. La Colombe coffee.
• When you buy two donuts at Dat Donut, you get a glazed donut for free.
• Weber's Bakery has a multi-tier promotion: All their doughnuts will be $0.99, 10% of the day's donut sales will be donated to the Salvation Army, AND they'll have limited edition flavors only available on that day.
• At Dunkin', you can get a free "classic" doughnut when you purchase any beverage.
• One free doughnut per guest at Krispy Kreme! If 1 Million people come in for their freebie, they'll also give out free samples of a new creation later in June – they only have described the mystery treat as "out of this world" great.
Now go forth and have sugar comas!